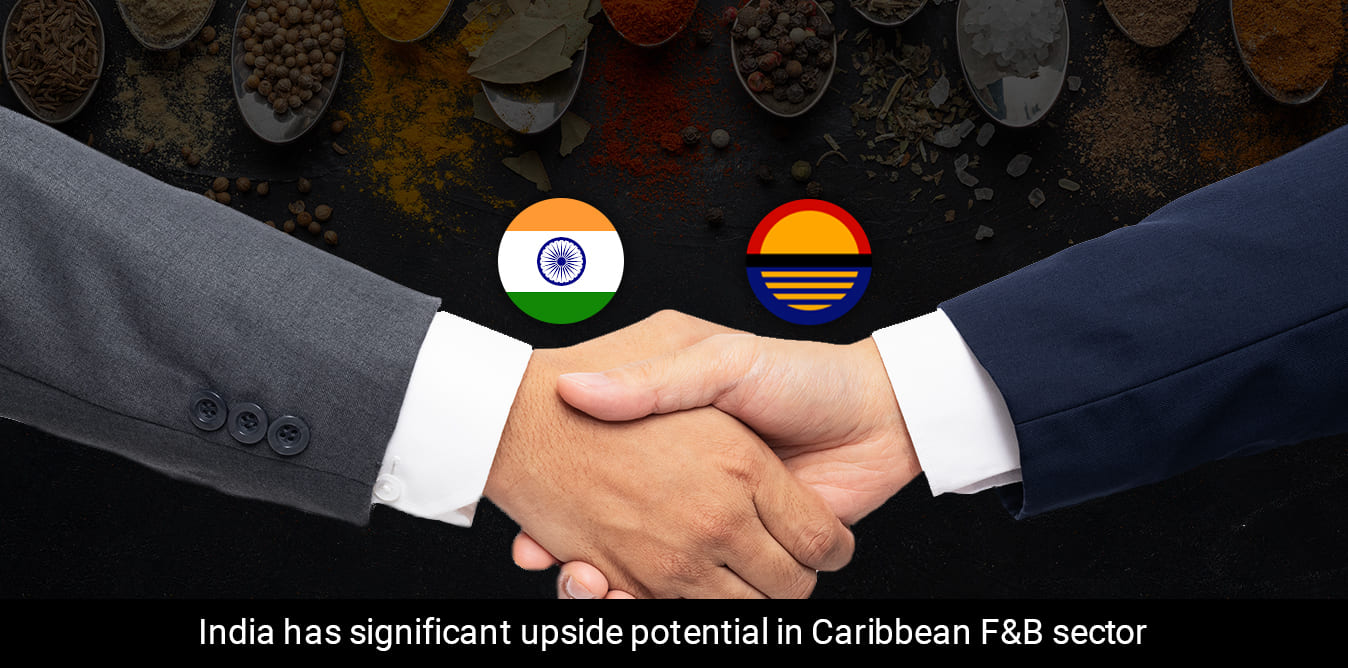 India has significant upside potential in Caribbean F&B sector
India's relations with Caribbean countries already have deep ethnic roots that trace back to the 19th century, when contract agricultural labourers from India were shipped to work in plantations. Ethnic Indians form around 30-40% of the populations in Guyana, Suriname and Trinidad and Tobago, and are also present in lesser numbers in other countries like Jamaica and the Bahamas. The Indian diaspora is quite active in Caribbean nations, ensuring significant demand for Indian products.
Food and beverages products constitute 16.8% of the total imports of Caribbean countries. In 2020, the regions' F&B imports stood at US$ 9.07 billion. Top imports are food preparations, n.e.s, milled rice, maize, frozen cuts and edible offal of fowls and tobacco. Leading suppliers for F&B products in this region are the US, Netherlands, Brazil, Dominican Republic and Canada. The US accounts for over 44% of the Caribbean nations' F&B imports.
India's total exports to Caribbean nations stood at US$ 561.32 million in 2020, out of which F&B products have 14.96% share. Therefore, India has only 9.3% share in the Caribbean food market. Top products that India supplies to these countries are shrimps and prawns, cigarettes, whiskies, tobacco, and sweet biscuits. Furthermore, largest buyers for products among the Caribbean region are Dominican Republic, Haiti, Trinidad and Tobago, Belize and Jamaica.
India is among the top 15 exporters for food and beverages products. There are products where India has competitiveness and which are significantly imported by the Caribbean nations from other sources. These include food preparations, milled rice, maize, tobacco, cheese, oil cakes and other residues, food preparations for infant use, cigarettes, bread and pastries, and preparations for animal feeding.
Indian raw material suppliers can also tap the food processing industry of Caribbean nations. In markets such as Trinidad and Tobago and Barbados, there is significant processing of wheat flour, soy products, dairy products, animal feeds and rice. Around 20% of the raw material for these products in the region is sourced from internal suppliers while rest 80% is imported from rest of the world. Furthermore, as the world's leading rum producers, the region is home to several major rum manufacturing units.
The Caribbean region is vividly diverse, with a Gross National Income (GNI) per capita that varies from US$ 800 to over US$ 30,000 according to the World Bank. Most countries are heavily reliant on tourism, while some have a high share of commodity exports. According to World Bank, Latin America and Caribbean (LAC) region has carried out around 398 reforms during last 15 years, thus increasing ease in doing business. Jamaica, a Caribbean nation, is 3rd in LAC region in terms enacting reforms to improve business in the region. However, the issue of high import tariffs in Caribbean nations like Dominican Republic and Trinidad and Tobago needs to be addressed.
Trade Promotion Council of India has done extensive work on promoting Indian agri exports across the globe, particularly in processed F&B products, through focussed market outreach initiatives. The Council's membership base includes some of the best F&B producers and exporters in India. Last year, when the world was struggling from the pandemic and physical events were impossible, TPCI organised a series of virtual buyer-seller meets (BSMs) in the F&B sector to ensure trade continuity and growth. Caribbean was one of the focus regions of this initiative, as we recognise its untapped potential.
While Indian products have been reaching this market via distributors in the US, the virtual BSMs helped some companies develop direct trade linkages with distributors and retailers in the Caribbean. Besides participating in the virtual events, a Caribbean delegation was also part of the 4th Edition of the Indus Food (2021), TPCI's flagship trade show for the Food and Beverage industry.
Our experience so far shows that there is a visibly lucrative market for branded Indian F&B products in the Caribbean. We look forward to providing more platforms in collaboration with relevant stakeholders to build on this initial momentum and further diversify India's F&B trade basket with the Caribbean countries.